TATTOO. ENDLESS CREATIVITY.
With Tattoo, interior decoration finds new forms of expression.

With its innovative formulation, Tattoo lets you produce unique and highly customizable colour effects, with unprecedented simplicity, reducing the number of steps and application times.

Tattoo offers an exceptional variety of innovative aesthetic solutions, with 3D light effects and structured base coats designed to recreate the feeling of quality materials such as wood, leather, metals etc. extremely realistically.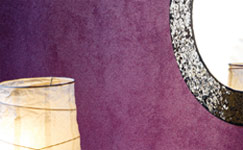 Style, creativity and innovation to decorate with colour.
With Tattoo's array of light effects, glinting metallic finishes, textured surfaces, textile illusions, retro effects and hi-tech offerings, the possibilities are truly endless. To help you make up your mind, we've classified the various offerings into themed sections, which you can access via the Effects menu or graphic menu.
---